What size hubcap do I need?
For a full size hubcap you want to go by your tire size, do not measure the actual hubcap. This will be written on the side of your tire. You will want to look for a series of numbers that will look something like 235/75 R15. The R15 is the size of your tire which means you would need a 15" hubcap.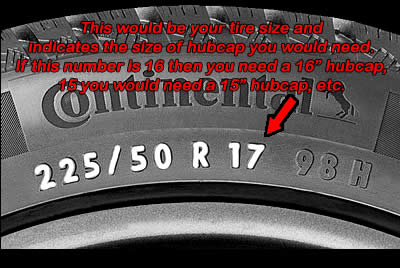 Center caps can be very hard to get exact measurements. The best way to match them is to either email us a picture at info@hubcapzone.com or text us a picture to 760-995-7521 and have the part number off the back of your center cap when you call.
What is the difference between a hubcap, wheel cover, center cap?
A hubcap and wheel cover are essentially the same. They would cover the entire rim of your car from edge to edge. These are usually anywhere from 12" to 18" in diameter.
A center cap would be smaller and only cover the middle of the wheel, usually just covering the lug nuts or even smaller just covering in between the lug nuts. These are usually anywhere from 2"-12" in diameter.
Can I install my own hubcap?
Most of the time hubcaps are fairly easy to install. Usually just a firm hit with your hand can install most plastic hubcaps. If it is to hard to get on with your hand a soft tap with a rubber hammer will do the trick. It is best to install metal hubcaps with a rubber hammer as they tend to be more difficult to get on.
Some hubcaps screw on with a fake plastic or metal lug nut. These will screw right onto the actual lug nut holding the rim on. You will want to tighten the fake lug nut with the lug wrench that came with your car. You will only want these to be snug. If you over tighten them you will strip the threads or crack the plastic and have a problem with the hubcap falling off.
There are few hubcaps that actually bolt on under the lug nuts, mainly Honda uses this style but a few other manufacturers are doing this now. In this case you do need to have your car jacked up and remove the lug nuts. You would then put the hubcap on and then tighten the lug nuts back to factory specifications. If you have this style you need to make sure you do not just pop the hubcap on, it will fall right back off if not bolted on.
Are your hubcaps new or used?
Most of the factory original hubcaps we sell are used. Some of the caps we get are off of new cars but we still sell them at a used price. All other plastic type hubcaps are refinished to be in excellent condition. Metal hubcaps are also going to be in very good condition. We will polish them and have any scratches buffed out to be the best they can be. They are always polished and detailed to be very clean when you receive them. We do not carry NOS or show car quality hubcaps. On the older classic cars all hubcap will have minor scratches to small dings or dents. i.e. if you need a perfect condition hubcap for you 1975 Cadillac, this is not what we carry. We will have nice daily driver hubcaps.
Any of the Custom hubcaps, Replica hubcaps, Wheel Simulators, Wheel skins, and Trim Rings are brand new.
Why by from Hubcapzone.com vs. the dealer?
There are usually 2 main reasons, the first is price. Hubcaps from the dealer can be very expensive. Hubcapzone.com prices are up to 70% less than what dealer charges. The second is availability. Dealers discontinue making hubcaps after a few years and you can not by a new one even if you wanted to pay a new price. Hubcapzone.com carries hubcaps from all current models all the way back to the 40's.
Where do your hubcaps come from?
Most of the hubcaps from newer cars come from the dealer. This usually occurs on a new cars when someone wants to upgrade to wheels. Sometimes on the used cars it is for the same reason or possibly the car was missing a hubcap when the dealer acquired the car. They would then put on an aftermarket set of hubcaps that would be much cheaper than the original and dress up the car. We have accounts that we purchase these caps from, restore them if needed and then sell them at a discounted price.
On older cars the hub caps can come from many different places. We buy from all over the country, sometimes it is from a car collector just trying to get rid of extra hubcaps they have. We will also buy from other hubcaps shops that are selling their inventory for one reason or another. Some hub caps can come from a wrecking yard if we find them in good condition.
How do you ship and how fast will I get my hubcap?
All of our Hubcaps, Wheel Covers, Center Caps, Trim Rings, Wheel Simulators, and Wheel Skins are shipped UPS in the continental U.S. Outside the Continental U.S. or out of the country we ship U.S. priority mail. We are located in Southern California so the shipping time will depend where we are shipping to. In most of the western states shipping will be anywhere from 1-4 days. The central U.S. Is usually 3-5 days. The East coast will be 5-7 days. We also offer upgraded shipping from 3 day to next day air for an additional price. The price will depend on what hub caps you are ordering and the weight. You will have this option to upgrade during checkout.
Outside the country is anywhere from 7-14 days. The hub caps will usually go through customs and this can also take a few days.
Do you ship to Po boxes and APO addresses?
Yes we can ship to both Po boxes and APO's. These will ship U.S. priority mail.
Do you accept returns?
Yes we do accept returns or exchanges on most items. You can view our complete return policy by clicking here.
Do you accept money orders?
No, we do not accept money orders, or do COD's. A safer more secure way is to purchase a visa gift card for the amount of the purchase then give us a call or do the order online.
Is your website secure?
Yes our site is secured by Geo Trust SSL security which uses 256 bit encryption for the highest level of security possible. We are also tested and monitored by McAfee secure to meet or exceed all of Visa, Mastercard, American Express, and Discover security requirements.
All personal information such as your name, address, phone number, and email address are only used for shipping purposes and order confirmation. We never sell or release your information to anyone.